Been super busy. Working in California. Living with my brother again while working in California. I miss having my own stuff around me. I'm remembering why I moved out in the first place. I love my brother.


I'm cooking and losing weight again. 4th time's the charm.
It's been a while. Most of you know me on Facebook. I'm gonna try to post here more often.
I have the same thing for each bedroom - a Queen bed, nightstand, dresser and mirror. But for my room I've chosen a storage bed - 2 drawers on either side. Then once I get everything off my floor I'll have a place to sleep that is unmarked by this move.
But I've got to get lamps.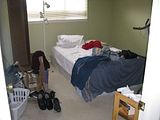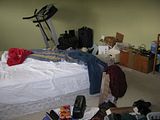 For the guest room I also have a storage bench that I'll set beneath the window.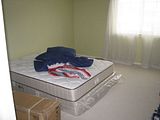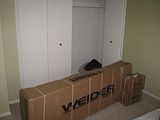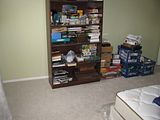 I'm getting bedroom sets delivered Saturday and will be able to put stuff away (at least a little). I'll wait until after that to decide on some sort of wall/storage unit for the office. I'll look in thrift stores, Target, Bed bath and Beyond - that sort of thing.


My house is still in boxes and my time runs out to get those boxes back to the moving company on Thanksgiving weekend. I don't know what will happen. I'll email my contact to find out.

I just feel empty right now. My cats are in California slowly forgetting me. I'm not in my house. And I'm twiddling my thunmbs because nothing is ready for me. WHY AM I HERE??
Now it looks like I won't be celebrating Thanksgiving at my new home. The plan to finish this proposal before the Holidays? Shot to hell. The Proposal Specialist in charge is now saying she doesn't see it happening. Mostly because our partners on this program in England don't look to be getting their bits back in time. Of course, they don't celebrate Thanksgiving so it doesn't mean anything to them. This is the second Holiday I won't be celebrating in my hiome. I really like Halloween but I didn't get to do anything about it.
This is the message I sent to their customer service:

"I picked up those three out of four items at the store

on Tuesday

. They couldn't tell me anything about my Geek Squad order for service on the next day. When I got home I called

1-800-geek-squad

to find out when they would be coming. I spoke with four separate operators. The first two said my order for the service was there but they could find no schedule time. The third seemed to be getting somewhere but I got cut off and was unable to get her back again. When I called in to try, I got a fourth, who interpreted what he saw differently from the others - that Geek Squad would call me sometime tomorrow (wednesday) to come by. SO, after over an hour of talking with your various representatives, I gave up. The next day I got nothing from Geek Squad. When did I get a call? At

5:00 pm

, to SCHEDULE the appointment for after I would be there. I was so angry at that point that I hung up.
When I placed my order over the phone on 11/2, I explained to your salesman that I was traveling on business, that I would be home only on the 8th thru noon on the 10th. He assured me that they would be there on the 9th. S0 I have paid $250 for nothing. My TV and DVD are sitting useless in my car. Really, that's $1100 sitting there, with everything I paid that I am getting no use from. I am going back to York today, and won't be home until Thanksgiving.
So, thanks for the $1100 worth of nothing sitting in my car collecting dust.
"
Is there an electronics store in Michigan other than Best Buy?


So you will have to wait for images until I've unpacked my camera and the place will be at least semi-filled with stuff.

I've so far bought a microwave, toaster, and utensils to cook with, and a set of knives. Which my brother reminded me I took our set of knives from home. Oopps. Well, I'll have plenty of knives, and the set I bought came with steak knives. Oh, and flatware. I bought flatware. Oh, and an 8-inch non-stick kitchen-aid pan.

I leave on travel on Sunday 16. I figure I'll come back for little trips ever other week. Renew my clothes and pills.

My new sofa and chair were delivered by JC Penny. My new dinette set was delivered by Dinette Masters. My mattresses are coming on Friday.

It's all coming together.
I figured I could buy one of those cheap little cameras they sell in drug stores and take some images of my house while it's still empty, maybe post them here? Well no, in spite of the blurb on the back saying it's compatible with Apple System 10.4.6 and Quicktime 6, or maybe it's too exact - it used to be that those were minimum requirements. If you had that or higher you were ok. I have System 10.4.11 and Quicktime 7.x, but the camera won't show up on my desktop and the software won't start up - it says it's not supported by my system.

I'm a homeowner.
The gas is in my name.
The electricity is in my name.
The phone.internet and cable will all be in my name when it gets hooked up.

I love my home.

My stuff arrives on Wednesday.
The keys to my first home.


Steve Jobs

I was going to write something here yesterday about Steve Jobs but LiveJournal was having issues. It was 1987 and I was in college. I worked at the bookstore, and we had a Mac store in our electronic section. I was seduced. It was a small grey boxy thing, with a cute little 6-inch black and white screen. There were a couple on display, and I used to play GridWars on one of them.

My first macintosh, bought courtesy of a student's pricing and bookstore employee discount, was a Mac Plus with 1 internal floppy drive, a Rodime external 20 MB hard drive, and Microsoft Word. It came with Hypercard. Soon, I had mastered MacDraw and Superpaint as well. I put out a newsletter for my gaming group. And when I entered the working world, it was not with an English Major as I had always thought, but with my years of home-taught Mac use. That got me in the door. It's nearly 25 years later, 20 in the same company, and countless applications.

I've said before I love my job. Maybe not all the time, but overall, yes. And I have Steve Jobs and Steve Wozniak to thank for it.

It was formica. It was Dinette Masters, at least. And I still like the fold out option. At least the chairs are wood. I now have the table and chairs, and I also have a sofa and chair for the living room, all being delivered tomorrow. I get the keys tomorrow as wel. I have called gas and electric and their both rolling over to my name. Also called phone and got it, internet and cable all in one. The mattresses are being delivered next Friday. All my stuff is being delivered Wednesday and I start unpacking. Then Sunday 16 October I go back to York. I'm gonna fly back every couple of weeks. Some start to the adventure of home owning, huh?


I spent this Saturday looking at bedroom sets. I want to have mine and a guest immediately. The living room set can wait. And I am trying to find the dinette set I saw a couple of weeks ago that I decided I really liked. I went around to all the various furniture places and I could not find it. It was unique in that no other place had anything quite like it. And now I can't find it.

I'm going to look at Dinette Masters this afternoon. I wrote no down on the notebook next to their name, but I'm hoping that was in reaction to how cheap their location was and I misremembered the rest. I've already been to Art Van, Gardner White, and Value City and all were a bust. I only have them to recheck. Why can't I remember where I saw this?

It's a 30x40 table that folds out to 60x40, red maple. Perfect for me.
We had closing on Friday!!!! I signed stuff for maybe 40 min. I am told that an FHA loan has a lot more paperwork. The seller said he would be moving out next Saturday, so hopefully I will have keys that day, or shortly thereafter. I'll call him tonight to firm it down. My stuff is coming out of storage on Wednesday.