I have the same thing for each bedroom - a Queen bed, nightstand, dresser and mirror. But for my room I've chosen a storage bed - 2 drawers on either side. Then once I get everything off my floor I'll have a place to sleep that is unmarked by this move.
But I've got to get lamps.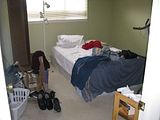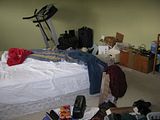 For the guest room I also have a storage bench that I'll set beneath the window.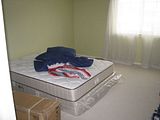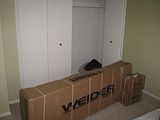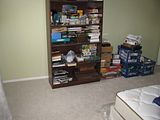 I'm getting bedroom sets delivered Saturday and will be able to put stuff away (at least a little). I'll wait until after that to decide on some sort of wall/storage unit for the office. I'll look in thrift stores, Target, Bed bath and Beyond - that sort of thing.